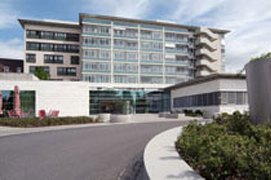 Homepage
---

Klinikum Neumarkt, which is classified as a care-level II priority-care facility (within the meaning of the Bayerischen Krankenhausgesetz (Hospital Act of the State of Bavaria) of 1 July 2006), has 530 beds, 23 treatment stations, as well as the Friedrich-Alexander-Universität Erlangen-Nürnberg teaching hospital.
Our 16 departments and outpatient pain clinic, along with a number of partner practitioners, provide care for around 26,000 inpatients and 48,000 outpatients annually.
In cooperation with Klinikum Nürnberg there is a paediatric ward with 10 beds.
The overarching goal of Kliniken des Landkreises Neumarkt i.d.OPf is to provide professional healthcare to residents of Neumarkt county and the surrounding area.
The main concern of all of our staff members is patient well-being, a goal that is achieved through professional competence, a humane and personalized approach to healthcare, and continuous optimization of patient related processes.
Our goal is to provide our patients with the best possible medical care in a personalized and personable fashion, as well as to continue developing into a modern and customer oriented healthcare center.
emergency
---